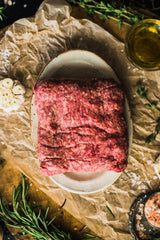 INGREDIENTS
1 tbsp. extra-virgin olive oil
1/2 large white onion, chopped
(3) cloves garlic, minced
1 1/2 lb. ground beef
1 1/2 tbsp. chili powder
1 tsp. ground cumin
1 tsp. dried oregano
1/4 tsp. cayenne pepper (optional)
kosher salt
freshly ground black pepper
1 (28-oz) can crushed tomatoes
1 – 12 oz dark beer
3 tsp. apple cider vinegar, divided
TOPPINGS
shredded cheddar
sour cream
thinly sliced green onions
DIRECTIONS
Heat oil in a large pot over medium heat.
Add onion and cook until soft and translucent, about 5 minutes. Stir in garlic and cook until fragrant, about 1 minute. Add ground beef and cook through.
Remove beef mixture to a colander set over a bowl to catch any remaining fat. Leave approximately (2) tablespoons of fat in the pot and add chili powder, cumin, oregano, and cayenne pepper (if using). Stir spices over medium heat for about 45 seconds to 1 minute. Add beef mixture back to pot, along with crushed tomatoes and beer. Bring chili to a boil and reduce heat to a simmer.
Simmer for about 20 to 30 minutes to reduce the beer and season with salt and pepper.
Remove from heat and add vinegar about (1) teaspoon at a time.
Ladle into bowls and top with cheddar, sour cream, and green onions.